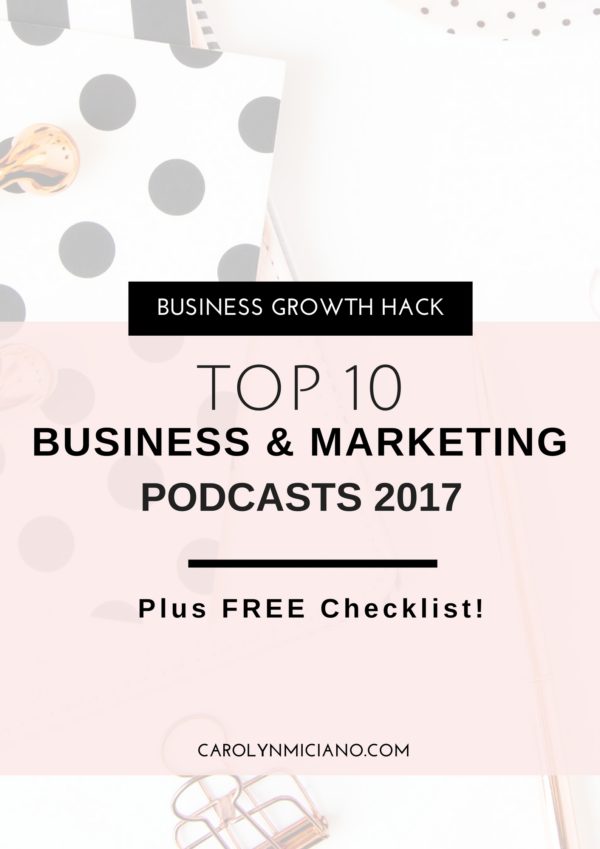 Marketing is the soul of business in order to grow and prosper.
Thus, every business owner is obliged to become even more resourceful and keep themselves to continuous learning and development when it comes to planning and implementation of business and marketing strategies.
In this point of time, one of the most efficient and cost effective ways to learning and acquiring knowledge is to tune into podcasts.
Regardless of what you specialize in, there are a number of business and marketing podcasts that everyone can learn from.
These top-10 marketing podcasts to follow and listen to will help you keep up to date on the ever-changing, yet somehow still the same, world of marketing online and off.
The Bacon podcast is packed with business and marketing topics from copywriting to business intuition and everything in between.
Brian shares his own knowledge as well as interviews others about their specialized topics.
Episodes are only about 10-20 minute long so you can squeeze them in during your lunch break.
There are currently over 200 existing episodes and he's releasing new ones all the time.
Don't have tons of time to listen to hour long podcasts?
This podcast is different. You'll get marketing advice every single day that lasts only 10 minutes.
These bite-sized podcasts are full of great information about marketing. Listen as you go for a walk or while enjoying your morning coffee.
Neil Patel has been a leader in marketing for many years and is a successful author, business owner, entrepreneur, marketer and blogger.
When you register with Rainmaker FM you'll get some free marketing training, plus, you'll free listen to all the featured shows.
Writer Files, Unemployable, Studio Press, Elsewhere, The Digital Entrepreneur and more are available for you to listen.
It'll be hard to figure out which one to listen to but every show gives great marketing tips and great information for online or offline business.
New shows are recorded each week in a local coffee shop and released on Thursday mornings.
They are roughly 20 minutes long and filled with tips and tricks for successful marketing.
Routinely covered topics include social networks, email marketing, SEO and offline marketing campaigns.
The hosts have interviewed people like Seth Godin, Ann Handley, Tom Webster and others make this podcast a top notch.
If you want to learn how to make passive income, listening to this podcast has so much worth of.
Pat Flynn teaches proven strategies for running an optimized, passive income business.
These are methods he practices with his own business on a daily basis.
He talks about failures he and other people have made, what they've learned from them and how they've overcome them.
He teaches video marketing, affiliate marketing and more.
He also has an Ask Pat podcast where he answers online business questions five days a week.
Amy Porterfield is a social media strategist and co-author of Facebook Marketing All-In-One for Dummies.
With her podcast, you'll learn tactics for getting more traffic, more customers and so much more.
Best of all, she breaks things down into lessons that you can understand and easy to implement.
The great thing about this podcast is that it shows you through example.
Each 60-minute show discusses newsworthy content marketing, rants and raves, and a good example from the past of content marketing that you can learn from.
This podcast covers all categories of marketing including but not limited to Advertising, tools, SEO, content marketing, online marketing, and social media.
It focused merely on what small businesses need to learn and adapt so business can grow fast.
Become instantly more productive listening to and implementing their advice.
Marcus Sheridan is a great host who speaks off-the-cuff in a personal way answering questions from listeners.
Each podcast consists of one question from a listener.
He uses his personal style to give answers with real actionable steps to take to be successful with marketing.
A video is hot. Best avenue so far to boost traffic.
You know that if you want to expand your brand, a video is a great way to do it.
Listening to this podcast will give you the information you need to get started and become successful with video marketing.
You'll learn about testing, conversions, explainer videos and more.
The folks at WireBuzz work with a variety of small business owners helping them use video to make a huge impact.
Conclusion:
There you go! I hope you'll be inspired by the tips, tricks, and strategies these FREE powerful resources can offer to widen your knowledge around business and marketing.
More so, the application that you'd do with every podcast on this page will determine your results.
So get started, be teachable and have the courage and discipline to apply them on your own.
Open your mind because there's so much that you can learn while listening to a podcast.
Do you know other insightful business and marketing podcasts that should be added to this list?
Grab Your Freebie: 40+ ESSENTIAL ONLINE TOOLS

…that those successful business owners, including myself, use every day! In this FREE resource, available as soon as you sign up to the newsletter, you will get access to a whopping 40+ tried-and-tested tools that I myself use in my own business & professional life.
Here's what you will discover:
Task Management Tools
Communication Tools
Productivity Tools
Social Media Management Tools
Content Management Tools
File & Storage Tools
Have questions or suggestions? Need help? Feel free to reach out at carol@carolynmiciano.com or you can drop by social media and say "Hi!". You will make me feel really delighted! ♥
And as always, if you find the information in this blog post useful, please share it with your friends and colleagues.
Thank you ! 🙂