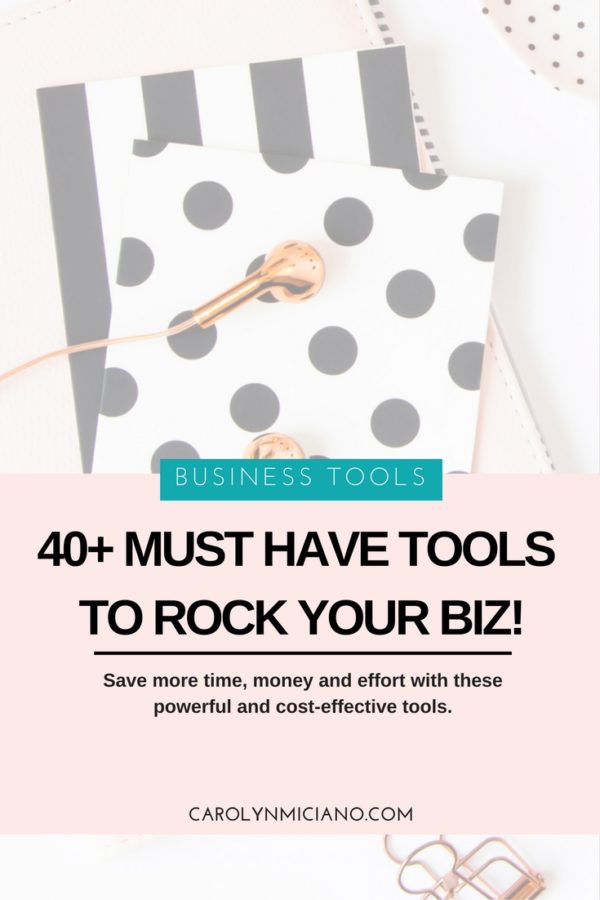 Some people may think that if you have products and services (which you know people will really love to buy) and a computer and ultra fast internet, a business can be profitable and successful forever.
Well, sad to say, they are wrong.
I remember back when I started my online support business, all I thought was that it's all enough that I have a broad knowledge and expertise on attending clients' projects.
Later then when I realized that no matter how skillful a person I can be and enough resources available to sustain clients' business as well as mine, there should always be a room for learning powerful and cost-effective tools that will help stakeholders propel the business to the highest level of growth possible.
For small business owners or online entrepreneurs, these tools are not just a matter of adapting to the current business needs or trends, but a way to save more money, time and effort.
Click To Tweet
To help find best tools for small business owners, I've collated a list of 40+ must-haves for you – that have helped me as well as the others to get more things done and work productively. 
Best Tools For Small Business Owners To Manage Blogs And Content
WordPress–The most popular platform for creating blog or website and the best CMS to choose. It is free and very user-friendly, requiring only the most basic computer skills to create and maintain.
Squarespace–Allows non-experienced users to create and design a website like a pro! Has a dynamic website builder tailored to the needs of creative professionals like designers, artists, and bloggers.
Bluchic–Is the premier feminine WordPress Themes for women in business and bloggers. With their gorgeous design, you'll get over your website shame. I use Bluchic Victoria WordPress Theme to create a professional site up-and-running for a one-time, affordable price. I can use the theme forever, on an unlimited number of times. TRY it and you won't regret it. Love, love, love.
Best Tools For Small Business Owners To Manage Websites And Hosting
HostGator –is probably one of the most popular hosting providers, yet people keep loving it. I am using Hostgator for a year now and I personally found it very compelling, reliable hosting for businesses and blogs like clients and mine. Check out all the latest coupon codes, promo codes & discounts for 2017.
Go Daddy– Has historically been a reliable host — world-renowned as the #1 domain registrar. Can help you easily build a beautiful and functional site in fair monthly subscription models they have. Check out all the latest coupon codes, promo codes & discounts for 2017.
Best Tools For Small Business Owners To Manage E-commerce And Payments
QuickBooks – is a software that allows you to invoice and accept payments. It is a great tool to create custom invoices that are personal to your business. Add a logo, select a template and make it your own! With this software, you can easily set recurring invoices, get notifications, and even set reminders. This is great for those who are in charge of all aspects of a business. Stay organized and get paid faster!
Shopify– They're not just an e-commerce software, Shopify is the best eCommerce platform that has everything you need to sell online, on social media, or in person. It is a run-your-business-everywhere-you-are whether you have one or multiple Shopify stores. This app makes it easy for you to manage your orders and products.
Best Tools For Small Business Owners To Manage Tasks And Projects
Trello–Do you need to have a weekly planner? Love to see what's get done and which ones need your attention for a certain time? Then Trello is a perfect match for you. It is a list of lists, filled with cards, can be used by you and your team. It's a lot more than that, though. Trello has everything you need to organize projects and makes collaboration easier.
Teamwork– Online project management, help desk & team messaging software designed to maximize your team's productivity and communication. I've been using this app myself for 6 years and I dare to say that I am a happy customer.  They have one of the best project management app + customer service in the world.
Asana–Is the easiest way for teams to plan, manage, and track work and get results. It's free to use, simple to get started, and powerful enough to run your entire business. Sign up for free today.
Best Tools For Small Business Owners For Communications And Meetings
Gmail– Google's Gmail is arguably the king of free webmail for 2017 and I think, onwards. It is a free email service, has more than 400 million users worldwide. With Gmail, you aren't tied to one computer to retrieve your email.  You can access your Gmail account from any computer that has Internet access – and even your mobile phone!
Hangouts–Use Hangouts to keep in touch. Message friends, start free video or voice calls and hop on a conversation with one person or a group. It is free, easy and safe to download.
Skype–Free voice & video calls. Skype is the leader in VOIP calling. It's a tool most business owners, clients and I use every day to communicate with team members, contractors, podcast guests, interns, authors, virtual assistants, outsourcing companies, online support individuals and other entrepreneurs. Premium features include calling landlines & cell phones — along with screen sharing.
Zoom– The most innovative video conferencing solution with the world's most talented team. Zoom is extremely effective for screen sharing Screen sharing, content sharing, annotation, messaging, recording, Webinars, demos, tutorials, Group meetings, client meetings with multiple participants provide with personal meeting ID.
Best Tools For Small Business Owners For Productivity
StayFocusd– Want to stay focused and love to get more done? This app is smart enough to increase your productivity by limiting the amount of time that you can spend on time-wasting websites.
Wunderlist– Is a cloud-based task management application to help you get stuff done. Whether you're planning a holiday, sharing a shopping list with a partner and managing multiple work projects, capture ideas, save emails as tasks, Wunderlist has the ability to track and organize them.
Toggl– Many of my clients say that Toggl is the best time tracking system for a small business they do have. Toggle has a simple online timer with powerful timesheet calculator which can be synced with iOS & Android app.
Best Tools For Small Business Owners To Manage Social Media Accounts
Hootsuite– Enhance your social media and management skills with this tool. Allows you to manage multiple social media channels in one dashboard. Dare to say, one of my secrets to being updated and connected to the online world.
Tailwind– I personally love this very powerful tool exclusively made for Pinterest and Instagram social media users and managers. I have seen tremendous growth for the first month I availed the free trial. See for yourself, now.
IFTTT– Use the most of your time and become the best content curator that you can be. Automate your social media feeds by simply connecting social media platforms to IFTTT and see how much time and effort that you can save over time.
Best Tools For Small Business Owners To Store Files On Cloud
Google Drive– Lets you store and access your files anywhere–on the web, on your hard drive, or on the go. Less stress for business owners who need to access important documents of their business on time at no cost!
Dropbox– A platform that allows you to store information, files and pertinent data on the Internet rather than on your own computer. I must say Dropbox saved me big time due to unexpected circumstances I've encountered for several times.
Best Tools For Small Business Owners To Manage And Track Emails
Mailchimp– Makes it easy to stay on top of your email marketing. You can create and send campaigns directly from mobile too. There is a free subscription that allows small businesses or start-ups start reaching out up to 2,000 subscribers and 12,000 emails per month.
Get Response– Is an easy-to-use email marketing and collaboration software which offers many advanced features, mobile friendly and which includes new capabilities and interface that is more intuitive than ever. You can try it for free for the first 30 days.
LeadPages– Is a page builder and lead generation software. Let's you build high converting landing page in a minute. This drag-and-drop tool is highly recommended by millions of email marketing professionals and companies. Try it free for 14 days!
Best Tools For Small Business Owners To Edit Files And Documents
Photos
Canva– Easily create beautiful designs + documents. Use Canva's drag-and-drop feature and professional layouts to design consistently stunning graphics. Canva is ultimately one of the most favorite apps of online entrepreneurs and virtual assistants who specialize in graphic design and social media management. I highly recommend this tool. You will learn how much value it brings to the business if you give it a try.
Pixlr– Pixlr web apps are fun and powerful online photo editors that let you apply quick fixes, crop, rotate, and add style to make any photo beautiful. If there is one app I run to when it comes to editing image sizes and shapes, Pixlr is always my best choice.
Picmonkey– A free online image editing tool. PicMonkey is very easy to use & helps make fun, shareable graphics for blog posts & social media. You can unlock premium fonts & other features for $33 per year.
Documents
Google Docs– You can get more done and do things that weren't possible before by simply using this awesome service Google provides for us. Remember that everything today is about cloud computing where you can store files (all kinds) and programs on the cloud. Meaning, you can take files with you and access all of them everywhere, anytime you want. With Google Docs everything is possible:
Upload your files from your desktop: it's easy to get started and it's free!
Access anywhere: Edit and view your docs from any computer or smartphone.
Share your work: Real-time collaboration means work gets done more quickly.
Online2pdf– Less work, less stress isn't it? Do you know that important files in Word, Excel, PowerPoint, images and any other kind of document can be easily converted to PDF on Online2PDF.com?! Free and completely online.
CloudConvert– Here is a website you probably should bookmark. CloudConvert is an online file conversion utility. More than 200 different formats are supported. I bet you won't be needing this as much as the others but this tool is a great online support should you need files to converted into another file type. One more thing, this is FREE!
Best Tools For Small Business Owners To Create/Edit Audios And Videos
Audacity– Audacity is a robust, powerful open-source audio recorder and editor that can do much more than you would. Indeed the very first audio and video editing tool I've tried out when one of my clients did his online show.
Blubrry– According to the research I did a few months ago, Blubrry is one of the best to choose from podcasting hosts available today on the marketplace said by top podcast professionals and online entrepreneurs who keep themselves active live. The main reasons were:
They integrate Powerpress plugin for WordPress
Free statistics report (advanced industry-leading companies) along with your hosting plan
No-fault over time – you are privileged to upload more than the monthly limit without additional cost to you
YTD– YTD Video Downloader lets you download and save YouTube videos and other video streaming sites onto your hard drive. This is a very useful feature if you ever want to view a video offline or play them on your computer even without the internet. The best thing I like the most using this app is it costs you nothing to avail its features.
youtube-mp3– YouTube is by far one of the greatest resources we can ever utilize to reach the highest potential of our business. The Free online courses related to my virtual assistance services offered by successful outsourcing gurus and entrepreneurs are one of my reasons why I love hanging out in YouTube. And to maximize the value these free resources offered on the internet, I often use Youtube-mp3. This app allows you to download YouTube videos to mp3 (audio) or mp4 (video) files for free. You can finally listen to these on-the-go-video-or-audio files anytime at anywhere you are. There is no registration or software needed. How cool is that, yo!                               
Best Tools For Small Business Owners For Customer Care, Service And Support
Satismeter– Is a revolutionary multi-platform, NPS-driven survey tool for SaaS applications. This app helps users get more useful feedback straight from their web apps and use that feedback to make their products better and more. All businesses number one requirement to progress and advance in the marketplace is to understand the wants, pains & needs of consumers and Satismeter plays a vital role indeed. Want to try it? Get started FREE, no credit card required.
Live Chat– Satisfy your customers without spending too much! We are all consumers in many other ways and we know how vital to have answered right on and real-time to deal issues and concerns. Using Livechat builds trust and confidence between companies and buyers, builds rapport with visitors and helps generate leads for business.
Freshdesk– If you are looking for a Zendesk alternative, check out why Freshdesk is winning with its ease of use, flexibility, and affordability. The Internet savvies and professionals agree that by far, Freshdesk is one of the best help desk softwares they ever used. Freshdesk is an intuitive and fun way for agents to support their customers, every day in every way. You don't have to read huge piles of documentation to learn its nuts and bolts. And you don't have to worry about implementing Freshdesk and getting it to work in your environment. Freshdesk requires no training.  Signup for FREE 30 days!
Infusionsoft– The talk of the town! Infusionsoft helps harness the power of automation to organize contacts, turn leads into customers and transform customers into raving fans like no other. In short, it allows you to manage your entire business (especially to small businesses and start-ups) in one place while still allowing you to see the overall picture of your business operations.
Best Tools For Small Business Owners To Keep Password And Logins
LastPass– Imagine the number of login information that you have accumulated over the past six years of working online?! How do you think you can remember them all and retrieve all at once?! I have a solution for you – LastPass. This app is the best way to manage passwords. No more forget-the-login moment and save-on-the-spreadsheet. Just remember your master password upon signing up and LastPass remembers the rest. Amazing!
BONUS TOOLS:
Best Tools For Small Business Owners To Create Beautiful Photo And Images
Best Tools For Small Business Owners In Administrative, Marketing And Technical Aspects
45. Virtual Services – Are you suffering from mental fatigue due to unending-to-do list on your table? Stressed enough to do the marketing, technical, social media and administrative duties your own to run your business? Are you a live-in-the-island where no more social and personal life and missing out special events and the company of important people in your life? Fellow online business owners, I can so relate to you. Until I learned to delegate my own dilemma to someone who is more capable and available, my life became peaceful, organized, and productive ever since. Yes, I am an online support gal who value fellow virtual assistants because they are extremely helpful to my growth!
Are you feeling the same need? Love to chat about this? Reach me out at carol@carolynmiciano.com
And these are just a few of the countless of tools me and others use on a daily basis. It's up to you to put them on to use.
Download Your Free List: 40+ Must-Have Tools For Your Online Business
Have questions or suggestions? Need help? Feel free to reach out at carol@carolynmiciano.com or you can drop by Facebook and say "Hi". You will make me feel delighted, really. ♥
And as always, if you find the information in this post useful, please share it with your friends and colleagues on Facebook, Twitter and LinkediIn.
Thank you! ♥
Some of the links on this website may be affiliate links. That means if you click on the link and purchase the item, we may receive an affiliate commission as their "thank you" for sending you their way.