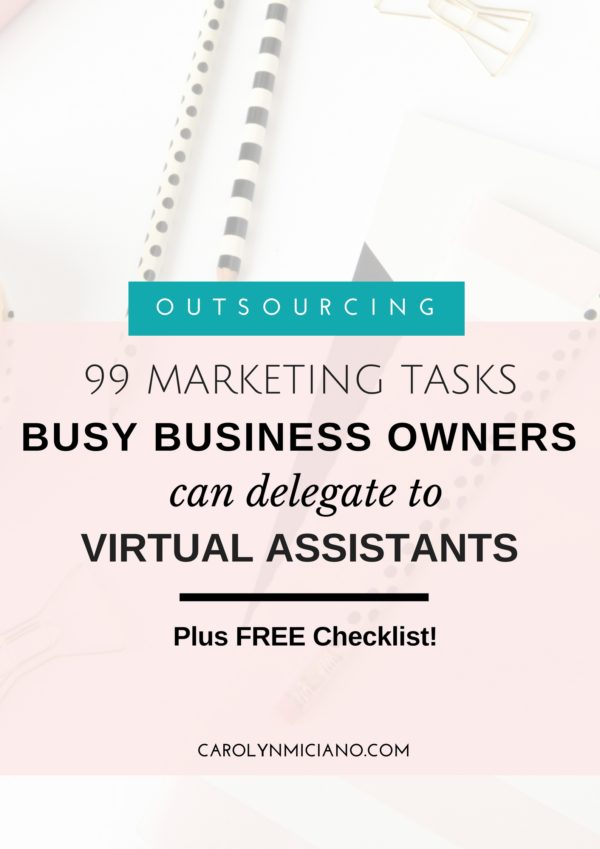 "As entrepreneurs, time is our most valuable commodity. Money will come and go, but once you've invested your time into something, that time is gone forever. It stands to reason that if there are any actions we can take as business owners to free up more time in our daily routines, we should take them." – Chris Ducker
Bam! Isn't that the truth? The more time I put in my own virtual assistance business, the more:
… I realize the value of my time
… I appreciate the importance of delegation
… I, myself, see how helpful and effective outsourcing and VAs are to any kind of businesses nowadays.
By my personal experience on 6 years working online, helping clients to build, grow and sustain their business and working on my own business at the same time is exhausting!
Putting 12 hours a day in a week and still getting a never-ending-to-do-list is frustrating!
Realizing that I cannot do it all myself to be a successful entrepreneur (in my situation), no matter how much I know about running a business, I had to make a decision to loosen my grip and trust my business to someone else more capable and available, a Virtual Assistant.
And the moment I loosened my grip, I realized (yes peeps!), "delegating tasks" gives me more of the one thing I can never get back: my precious time.
It also:
frees me up from doing the things that could be done by others (research, marketing, designing, bookkeeping)
gives me quality time to spend on business planning and monitoring
allows me to connect more with potential clients
allows me to be more personal on handling clients' business concerns
gives me more time to spend with my loved ones without compromising work and business
last but not the least – less stress! (oh, I love this the most! ♥♥♥)
I've found that the more I delegate, the smoother things run around those areas in my business and personal life.
Click To Tweet
And today, I will be sharing a "to-do-marketing-tasks" or "marketing tasks" most clients and business owners (including myself) have to delegate with Virtual Assistants, NOW!
Social Media Set-Up & Management:
With the help of social media, you can effectively communicate with your present and potential clients along with determining its effects on your business visibility in the target market.
The virtual assistant handling your social media accounts can perform the following tasks.
Produce & Manage Twitter Account
Monitor Facebook page
Upload photos on Pinterest, Instagram & Flicker
Write & promote content
Consolidate the complaint reports
Run a social media challenge or a contest
Produce detailed profiles on social media along with inserting the link to official and relevant company websites
Engage with users and be considerate towards them
Keep a close eye on the competitors' social media presence and regularly check their ranks and visibility
Ensure that the company offers the efficient mobile media strategy.
Internet Marketing Support:
To increase the visibility of your business and cope up with the competition, you need to hire an internet marketing VA.
Following are the tasks performed under this support:
Developing a marketing strategy that is strictly SEO optimized
Regularly performing the blog and competitor analysis via ranked content and SEMRUSH positions
Starting a link-building campaign
Searching for the marketing writing and publishers to provide excellent quality content
Off-page optimization and participation in intellectual forums
Carefully observing and bringing in site traffic
Reaching out the media outlets
Webinar, and Online Event Management:
To help put an end the unrealistic division and to bring the online meetings and webinars under a bus, you should hire a VA having the ability to manage all following aspects of the online event management.
Training on-site employees and virtual staff members
Researching relevant important data, such as pre-scheduled meetings or presentations etc.
Contacting industry experts to participates in the webinars
Including the information from the webinar vendors within the step of the online events
Monitoring event promotion and event reporting tools to the webinar space
Content Formatting & Production:
Even if you have a healthy mind and your ideas are a dime a dozen, still what really counts is how you manage to write it in a way that is distinctive and different from the others.
When you hire a virtual assistant for start ups, realize that they have to get themselves involved in the huge amount of writing from the social media posts, blog updates, newsletters and more.
Blog post creation, involving guest blogs & ghost blogs
Newsletter writing, proposal writing & Press Release writing
Copywriting, SEO Writing
Article writing, article spinning, article publishing & Article marketing
E-book writing & producing marketing material, like infographics
Writing in-depth reports and composing the case studies
Writing and publishing tutorials, step-by-step and how-to guides
Interviewing the satisfied customers and other resources
Designing broachers, flyers and white papers etc.
Podcast Support:
Podcasts grab the attention of the audience so you need to maintain them in order for your clients to conceptually understand the content.
Due to the fact that the scale of understanding seems to tip towards the podcasts of the business, you should hire a VA that can perform following actions.
Transcribe the podcasts, voicemail and other audios
Basic audio editing, such as monitoring the intros and outros
Improve the volume levels along with removing the background noises
Recording, editing and setting up of the podcasts
Insert them online, such as on web pages and compatible social media platforms
Trim the unnecessary segments
Produce better final cuts
Transcription:
This is an important management part of the business that needs to be sorted out by the professionals.
However, it is a tiresome process and requires internet expertise for this.
Your VA can manage and properly carry out the following tasks.
Interview and test the applicants in order to evaluate their potential
Ensure that the new freelancers are comfortable with their new online work environment
Notice the transcription inadequacies that should be improved
Resolving the issues that may become a risk to the mutual benefits
Communicate the plans with other transcriptionists
Keep the staff updated of the workflow and the business requirements
Maintain proper communicating with the personnel department
Product Launches:
Product launch marketing is severely important as there are numerous variables to care about. If not appropriately addressed, they can spell disaster leading your business to drown, therefore; you need someone to perform the launching related tasks on your behalf.
They include:
Searching for booking airfares and places suitable for product launches
Making plans for promotional giveaways
Searching for the relevant industry leaders and target audiences to attendant the events
Putting together welcome and goodbye packages
Placing the advertisements online
Email Marketing:
The VAs filter out the important emails and respond to the clients on your behalf.
To keep you from wasting your time, hire a VA that can carry out tasks mentioned below and more.
Send welcome emails to the new subscribers and clients
Send special greeting cards on holidays and anniversaries via email
Design attractive advertisements and casually send them from client to client
Create the lists of email contacts, categorized on different basis
Send email newsletters and promotional copies
Establish Auto-responders
Write and send establishing follow-up emails
Customer Service:
Customers are the major reason for the success of a business, so their requirements need to be figured out.
The customer care is more important for the small business owners online support as they have to build a loyal team of clients satisfied with the services of the company.
Keep in touch with the customer service representatives
Monitor the tech support and banking issues
Produce the customer care scripts
Create and manage the priority list of customer service requests
Look after customer refunds
Send the gift cards and thank you notes to loyal clients
Properly engage with the audience and respond to their inquiries
Ask the customers to give suggestions and recommendations
Online Business Management:
The online business management skills of the virtual assistants are the important contribution to any company as there are numerous core ingredients to get right so that the business doesn't flop before getting the chance to rise.
Here are some of the tasks relevant to online business management.
Recruiting the freelancers as potential team members
Interviewing the job applicants online
Reviewing the resumes in order to contact the deserving candidates
Speaking of references
Providing constructive recommendations when the monthly, quarterly and annual goals aren't achieved.
Running the online office
Challenging the employees and workers to receives tips and bonuses
Gathering and monitoring the documents for the tax season
Conducting the credit and criminal checks via online databases on the staffers
Carefully researching the raw data and converting it into a detailed report
Reporting on the prevailing trends in order to brief SBO
Administrative Tasks
The administrative tasks are the repetitive daily tasks that are required to be done in order to keep things going smoothly.
They are time-consuming; therefore a virtual assistant for entrepreneurs can efficiently perform a variety of these tasks, like:
Data encoding and organization
Database entries and PowerPoint presentations
Scheduling
Chasing Business
Online researching
Industry knowledge preparation
Data gathering and report generation
Personal calendar management
Managing emails
Social tasks
Template and forms creation
Project Management
Mike Tyson says, "Everyone has a plan until they get punched in the face."
This management may look easy, but is really difficult and needs someone to properly take care of it.
It demands the VA to perform tasks like:
Create a vast business scope project management system
Manage the project
Keep in touch with the contractors and sub-contractors
Keep hold of the online calendars
Manage and inform the team leaders about deadlines
Monitor the latest industry developments
Report the statistics and facts of the project proceedings.
Online Courses (Teachable & Udemy) Set Up & Support
The online support for startups in terms of online courses set up may require a virtual assistant, who can perform  tasks that include the following, but aren't limited to these:
Get hold of the automated software for the buyers to access the courses
Research for the requirements and demands of the courses
Monitor the rate offerings, discounts, and payments
Manage the registration, approval and login forms
Properly arrange the distance education training.
Action Time: Delegate to Elevate!
These are just a few of the many marketing tasks that a Virtual Assistant can do for you. If you are ready to spend more time focusing on the most important things that will help elevate you and your business, hire a VA to help you today.
Get Your Freebie: 40+ ESSENTIAL ONLINE TOOLS

…that those successful business owners, including myself, use every day! In this FREE resource, available as soon as you sign up to the newsletter, you will get access to a whopping 40+ tried-and-tested tools that I myself use in my own business & professional life. Here's what you will discover:
Task Management Tools
Communication Tools
Productivity Tools
Social Media Management Tools
Content Management Tools
File & Storage Tools
Have questions or suggestions? Need help? Feel free to reach out at carol@carolynmiciano.com or you can drop by social media and say "Hi!". You will make me feel really delighted! ♥
And as always, if you find the information in this blog post useful, please share it with your friends and colleagues.
Thank you ! 🙂