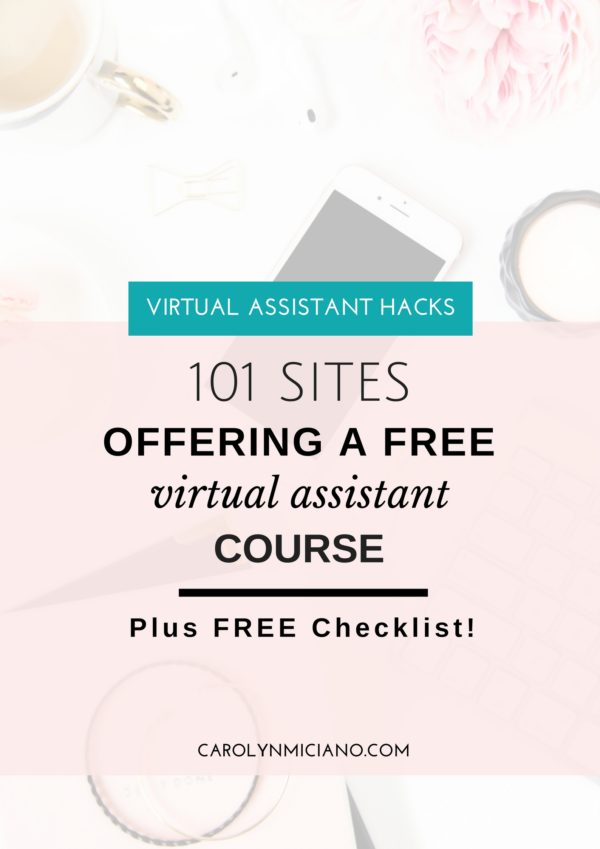 I remember the days back when I got started – particularly new to the industry of working at home. I've found it hard to know where to start with and who should I follow and trust as I began to dip my foot and test the water. Thank goodness for being gifted to be a resourceful person – the very first free virtual assistant course which I grabbed right away saved my sanity when just starting out.
A Free Virtual Assistant Course Is Like A Pot of Gold
A Virtual Assistant free course [that costs me nothing] is like a pot of gold for seasoned VAs like me, I must say. They are always one of the most cost-effective reasons behind the growth and success of VA business owners as well as independent contractors, freelancers, or online supports. I mean, I love to invest in courses (heck yeah… I do that often, too) but who doesn't want to save more of our hard-earned money if there's a way out right there???
Utilize Free Virtual Assistant Course To Help You Stay On Top Of Your Game
These free resources for work at home professionals are indeed vital in helping me sharpen my skills and knowledge base, find high-ticket clients, earn more decent income and become competitive at this most crucial time of staying on top of the game.
And I always bear this in my mind, the main purpose of learning and enhancing more of my craft is not just to impress clients with my abilities but to make them feel that they are important and loved their businesses and that I am sincere to partner with them on their mission and goal in life.
Utilize Free Virtual Assistant Course To Help You Connect With Ideal Clients
From the very beginning, I have this understanding that it's a must to know my future clients' needs! I know that I have to think how my clients think and feel how my clients feel. I know that If I were able to connect with them in a deeper sense, the higher the possibility to have a long-term working relationship between the two of us, which of course, the main goal of my virtual assistant business.
And how did I do it?
Educate myself by the numerous virtual assistant training program online, non-stop and apply.
And I can tell you, the abundance of free online training and courses from which I've taken advantage of during my early years up to date, are a huge help to creating and shaping this profitable business I run myself for six years already.
So, whether you're just starting out or a seasoned Virtual Assistant, who need to broaden your knowledge base and up-level your skills, these 101 sites are of great advantage to your extreme career growth.
A| Free Virtual Assistant Course: Digital Marketing
One of the most in-demand skills for Virtual Assistant is marketing.
Marketing is the soul of a business, the most important function that every business needs to address to bring in more revenue. But it is not simply a matter of presenting their product or services to the target market. It is more of the right application of well-planned strategies and tactics in the right place at the right time.
If you'd love to take your VA career more seriously, set a quality time and spend it on learning continuously the ebb and flow of digital marketing. You will become a more effective support if you can address client's present needs to grow their business from the ground up.
How about the gain of being their go-to person? Your clients, of course, will keep and value you on the quality and value of services that you can provide.
Remember, the more they are satisfied, the more they stay on business with you. And the more you are on their business, the more you are likely to get paid according to your standards.
B| Free Virtual Assistant Course: General Virtual Assistance
You are one of the favorites and business owners often call you true time saver and life saver buddy!
Why?
"One of the biggest reasons why entrepreneurs nowadays struggle to grow their business is because they are simply wearing too many hats." – Chris Ducker
Click To Tweet
Simply put, a majority of entrepreneurs and business owners think that their businesses work better or income revenue increases faster when they handle everything on their own.
It includes a lot of things they do need to monitor regularly, and it ranges from the smallest details, like spell checking emails and web content, to the biggest- their company's vision. Having so much to do off their to-do-list every day, can make them spend hours on small-though important-task, thereby foregoing the important work of putting their concepts into action and solidifying their vision.
Imagine how absolutely chaotic the routine is. Stressful, isn't it!
As an online support, we should understand and feel their pain and dilemma, act fast and provide the solution to fill the gaps. And General VAs are such a huge help to consider.
General Virtual Assistants are all-around, highly-skilled online professionals whom clients and business owners depend and lean on nowadays to help them in, day to day, on various tasks such as:
 Content Management
 WordPress, Joomla, Squarespace Sites Management
 Online Course setup and support – Udemy & Teachable
 Handling and organizing schedules
 Creating and implementing content calendar objectives
 Lead generation tasks to follow up with clients/vendors
 Create and manage databases, data entry
 Write, edit, manage or proofread blog content and press releases
 Market and internet research
Obviously, tough skills are necessary in order to cope and provide them a top-notch service and the list of virtual assistant training program online should be taken seriously enough in a regular manner so as to avoid you from being left behind the requirement.
C| Free Virtual Assistant Course: Content Writing
"Let me ask you this, would you order a cheeseburger if you knew there wouldn't be meat on the sandwich? Of course not. So, why would your customers stay on your site if you had no relevant content for their needs?" –Whitney Derr
When I started working online, I didn't get it straight away.
I thought I would just stay forever on being a backend support doing minor gigs such as data entry, research, manage social media, update databases, manage websites and so forth.
I was wrong thinking that the world of business doesn't change over time and that it won't require any change from me, either.
Click To Tweet
Until I decided to shift my career into a business which offers higher-end support.
I realized then while creating my own website the importance of content writers and how providing content to my website's visitor is crucial to my success.
Content is king they say and I second the motion.
Now, I hope you get my point?
Services and products and website are not enough to thrive and survive and virtual assistants should have a clear understanding regarding that.
Feeding website's visitors with the right content at the right time is the way to keep your clients' business alive on these days.
If I were you, seasoned or new to the industry on helping online entrepreneurs, start adding into your to-do-list and take some measure on how to hone your skills in writing.
There you have them! I hope you enjoy these hand-picked free sites which can significantly help you acquire the skills you need to support your clients!
Love to get the list for free? Please email me at carol@carolynmiciano.com
Here's another FREE resource for you:
Download Your Free List: 40+ Must-Have Tools For Your Online Business
Have questions or suggestions? Need help? Feel free to reach out at carol@carolynmiciano.com or you can drop by Facebook and say "Hi" ♥
And as always, if you find the information in this post useful, please share it with your friends and colleagues on Facebook, Twitter and LinkediIn.
Thank you! ♥
Some of the links on this website may be affiliate links. That means if you click on the link and purchase the item, we may receive an affiliate commission as their "thank you" for sending you their way.